03 Jul
The Hammer Of The Sun is the third book in a 6 book series by Michael Scott Rohan and the final part of the first 3 book arc.
See reviews of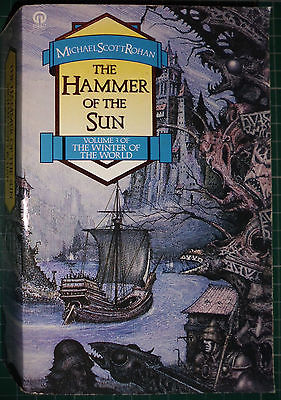 It was with some trepidation I started book 3. My memory of it was of it not being as good as the previous 2 and there being a horrifying passage which annoyed me and others I know who had read the books.
It has a very strange open. There's a large time skip and the introduction informs you that Elof, who spent 2 books chasing a minor Power called Kara was trying to control her to stop her potentially leaving. His paranoia and fear fill the first chapter.
In book 1, one of his apprentice pieces was in his ignorance intended to allow Louhi, the evil ice-worshipping Power to control Kara. He then spends the start of book 3 intending to make a pair of unremovable anklets to force her to stay. In addition to this he also coerces her to hand over her magic-cloak which allows her to change form and fly away from him. So he therefore emotionally blackmails her to stop her best immediate chance of freedom and then creates something to completely control her.
I have no idea what was going on in Michael Scott Rohans life to influence or inspire these events in the book but it's pretty horrible and a total departure from the tone of the previous books.
There has been an ongoing seasonal effort to migrate people from the Western edge of the continent to the Eastern to escape the Ekwesh. On one of the trips to the West to transport people, Elof tries to put his anklets on Kara. She, as a Power, knows that there is magic in the anklets and what they do, becomes enraged, and rightfully fucks the fuck off, leaving him greeting and ashamed for being a complete dick. It's just so strange how his character changes from someone who lives essentially as a monk for decades dedicated to rescuing the woman he is in love with to becoming a controlling monster. The character was previously the hero of the series and now can't be rooted for in this book.
Elof gets permission to sail east, across the not Atlantic Ocean to try and find her, again, and make amends/win her back and Roc joins him for the voyage. The continent in the East is where their ancestors arrived from so this is essentially a re-hash of book 2 – voyage east to find civilisation and find Kara.
After a harrowing voyage across the sea, they are shocked to find Ekwesh here too! Ekwesh who had originally attacked the West Coast of not California from Siberia – so they essentially inhabit from Western Europe to Siberia. The map in this book shows Spain and western Europe with a small river which goes from the Straits of Gibraltar to Greece. There is a gate/dam between Spain and North Africa and the entire basin has a few hundred feet less water – reflecting the water stored in ice during this Ice Age. upon landing they are separated and Elof is captured by the Ekwesh and taken to the gate where Louhi lives.
Roc is rescued by Duerghar (dwarves) left when their kin went West millenia ago. When Elof escapes they meet up and move to the East. Along the way it becomes apparent that these are evil and they manage to steal the Helm and retreat into a hidden mountain stronghold. Elof and Roc continue east in an effort to reach Kerys (not Athens?), the ancient city where their ancestors left from in the long past. On their journey they meet sailors who take them to the city.
I'll try not to spoil too many of the details (and in 470 pages plus appendix there are many). But it turns out that the King of the realm is a psychotic arsehole. He decides that Roc and Elof would make fine thralls. He orders his men to sever Elofs hamstrings. Unfortunately he does so with the sword Elof reforged, which has twice, through magic, let him heal wounds from it immediately. He starts to recover the wound (yes I realise this all sounds mental, but it's a fantasy novel with dragons, dwarves and gods in it…). Mad King Nithaid, has Elofs legs stabbed again and the anklets inserted into the wound, through the bone and then closed shut. The magic anklets which can't be re-opened and will then stop the wound ever healing and leaving him completely limp.
It is at this point that the novel has been known to be launched across the room.
Made up Ramsay Bolton torture from Game of Thrones and Saw may have dulled people to events like this. This happens about 220 pages into a 470 page book though, when you have previously read 2 books about these characters and are pretty deeply invested in them, and have seen Powers step in to help them in previous books. There is of course some irony in that the anklets had been intended to bind someone else under his control.
Having understood the quality of magesmith before him, Nithaid exiles Elof and Roc to an island off the city coast where they are kept as slaves to produce weapons and armour to defeat the Ice.
I'll not spoil the book end, or where it goes from here, even if it is 28 years old. There are many things hinted at in previous books that are sewn up and lots of threads come back together. One thing which does rankle though is the last you hear of the duergar in the East is after they steal the Helm and then there is reference to the helm in other stories. They are never encountered again. One other minor criticism of the book is the chapter index at the start – the titles really give away some major plot points including the ending of the book.
The story concludes and there is also detail of what happened to the major characters after the story end to give closure which is something I appreciate in novels, maybe because of Lord of the Rings.
I'll carry on reading book 4-6 now, but for anyone interested in these, they have just been re-released again recently, are available on Kindle, and the older paperbacks can be found for a penny each (plus postage) online.